Ovens for every Cookaholic
Our ovens are exceptional because they have been designed by people who are passionate about food and love spending time in the kitchen. With functions to achieve perfect baking, roasting and cooking results, we have an oven for every requirement.
Our Single Ovens - versatile kitchen companions
If you need an appliance that complements your cooking style, look no further than our single ovens range. They come with innovations like our unique CircoTherm hot air system, which lets you bake and roast dishes on up to 4 levels simultainlously and everything will come out tasting like it's supposed to. Looking for even more to try out? Expand your knowledge and experience a different taste - choose between VarioSteamor FullSteam, and enjoy the advantages of steam cooking. After you're done, the oven will take care of the cleaning with the pyrolytic self-cleaning cycle: after activating it, you just have to wipe the oven clean with a cloth.
Our Ovens with FullSteam - allrounders for all your ideas
Delicious food, tasty look: Our steam ovens range makes it easier to turn your ideas into reality. Enjoy features such as FullSteam steam assistance, that cooks foods moist on the inside and crisp on the outside. Plus a range of of up to 15 baking methods from grilling through to dough warming.
Our Microwave Ovens - whip up delicacies
Even if you're into cooking, you might not always find the time to prepare a full-blown meal. This is where our ovens with built-in microwaves come into play. Combined with our innovative ovens, they allow for a practical and quick way of preparing dishes. These ovens are great for heating ready meals, cooking from frozen or defrosting food at any time.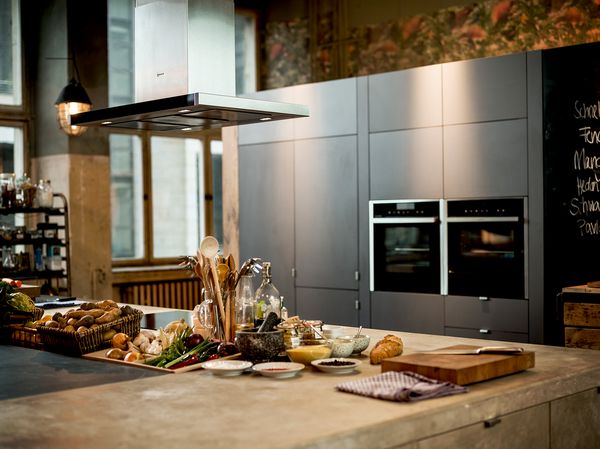 Our Double Ovens - expand your cooking
Do you like to serve a range of dishes, all at the same time? Our double ovens let you do just that. And of course they're also equipped with all our helpful ideas - like the CircoTherm® hot-air system, and our flexible rails, which allows you to place oven rails just where you need them.